Connect with your social network account
CC Member

Posts: 5
Joined: January 19th, 2017, 12:44 pm
Hey guys, I just wanted to come on and post some positive things I've been thinking over. Most recently I've been thinking about how amazing our God is and how thankful to Him I should be every day. But I haven't been. It's a real challenge at times to continue to walk this world with a thankful heart.
So for me personally I have been keeping a journal of things I am thankful for every day. I will not bore you with everything that I have written down but I did want to share them here.
And who knows? Maybe we can start a chain of things we are all thankful for and help each other push forward in this world with a more joyful and thankful heart.
I think I might make this a weekly thing, but if you guys really like it I might find it in me to do it daily. Up to you!
So without further to do, here is a small list I have compiled of things I am thankful for:
1) the small things in life that make my kids giggle
2) that even though I fail often, I am still redeemed
3) different flavors of COFFEE!!!!!
4)my own house where I can have a chopstick section in my silverware drawer!
5) little parenting victories
6) PEANUT BUTTER!!!
7) Grace wins every time!
8)friends to talk and hang out with.
9) music.
10) that I can know my God more and more...
That's my list for this time. Hope you all enjoyed it, and I look forward to seeing what some of you are thankful for as well. Love ya all!!! DFTBAB (Don't forget to be a blessing!)
word count: 292
---
CC Member

Posts: 943
Joined: June 22nd, 2017, 9:27 pm
Steam Profile: DynamiteTiger
Origin Profile: DynamiteTiger
UPlay Player: DynamiteTiger
Location: Edmonton, AB, CA
Contact:
Part of our daily worship is being thankful. This kind of relates to the topic Preast started last week on daily prayer and reading. We often use our prayer time to bring our petitions to God. But it's with a thankful heart that we find ourselves in the spirit of worship. Personally, I take time to thank Him in my prayer time during my morning commute which takes about 45 mins. I almost always start my day by saying, "thank you Lord for another great day to be alive, and thank you for your many blessings in my life."
word count: 100
---
---
---
Council Advisor

Posts: 2416
Joined: November 2nd, 2008, 8:26 am
Steam Profile: ongurth
Location: doing fun and exciting things, such as praying, writing, shooting, or Krav Maga
Contact:
This is a great exercise! I try to do it every morning. It has helped me overcome a lot of anxiety in the past.
1. Books. Books give us a portal to another world. They allow us to have friends from different times who will criticize our own time from outside our culture.
2. My family. I am blessed to have a wonderful wife, good siblings, and in-laws who I actually like. I never take this for granted.
3. Freedom. I know America isn't perfect. I know I gripe about both parties a lot. But the reality is that I live in a time that gives me and my countrymen more freedom than almost any other people group at any time in history.
4. For Football reviving me in PUBG
5. For Football carrying my meds and ammo in PUBG
6. For the internet and how it allows me to connect with people I would never have met otherwise.
7. For transportation that works (most of the time)
.
word count: 170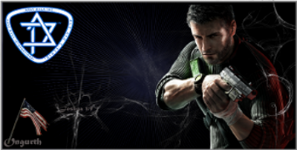 ---
---
Users browsing this forum: No registered users and 3 guests