word count: 8
---
Council Advisor

Posts: 2419
Joined: November 2nd, 2008, 8:26 am
Steam Profile: ongurth
Location: doing fun and exciting things, such as praying, writing, shooting, or Krav Maga
Contact:
There it is.
word count: 3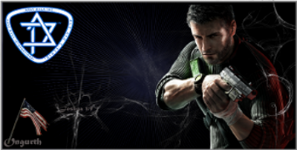 ---
word count: 15
---
Henceforth, Kesarahk shall be known as The Punisher.
word count: 8
If serving is below you, leadership is beyond you. - Anonymous
Coram Deo, Soli Deo Gloria
---
Sure! Soon as I'm done arguing with this wall in Rocket League.
word count: 13
---
Overwatch Division Leader

Posts: 458
Joined: January 23rd, 2012, 8:38 pm
Formerly Known As: applesausage
Location: WA
I missed the last couple. Need to check the forums a lot more often.
word count: 14

--------------------------------- Love God, Love Others ---------------------------------
---
Council Member

Posts: 602
Joined: August 15th, 2014, 10:37 pm
Steam Profile: ChronicleStone
Battle.net Profile: WingedScribe#1340
Location: Roanoke, VA
Kudos to Kesa, who has apparently become the new riddle-solver extraordinaire within our ranks!
So, I've only got two this time (because these are literally the last ones I've made up so far), but my favorite one so far is in this batch. Have at, guys!
word count: 50
"But that's a house!" ~ Michael Fedora
"Always good to have a plant." ~ Ongurth
---
word count: 9
---
word count: 5
---
Save some for the rest of us, Punisher!
word count: 8
If serving is below you, leadership is beyond you. - Anonymous
Coram Deo, Soli Deo Gloria
---
Users browsing this forum: No registered users and 1 guest