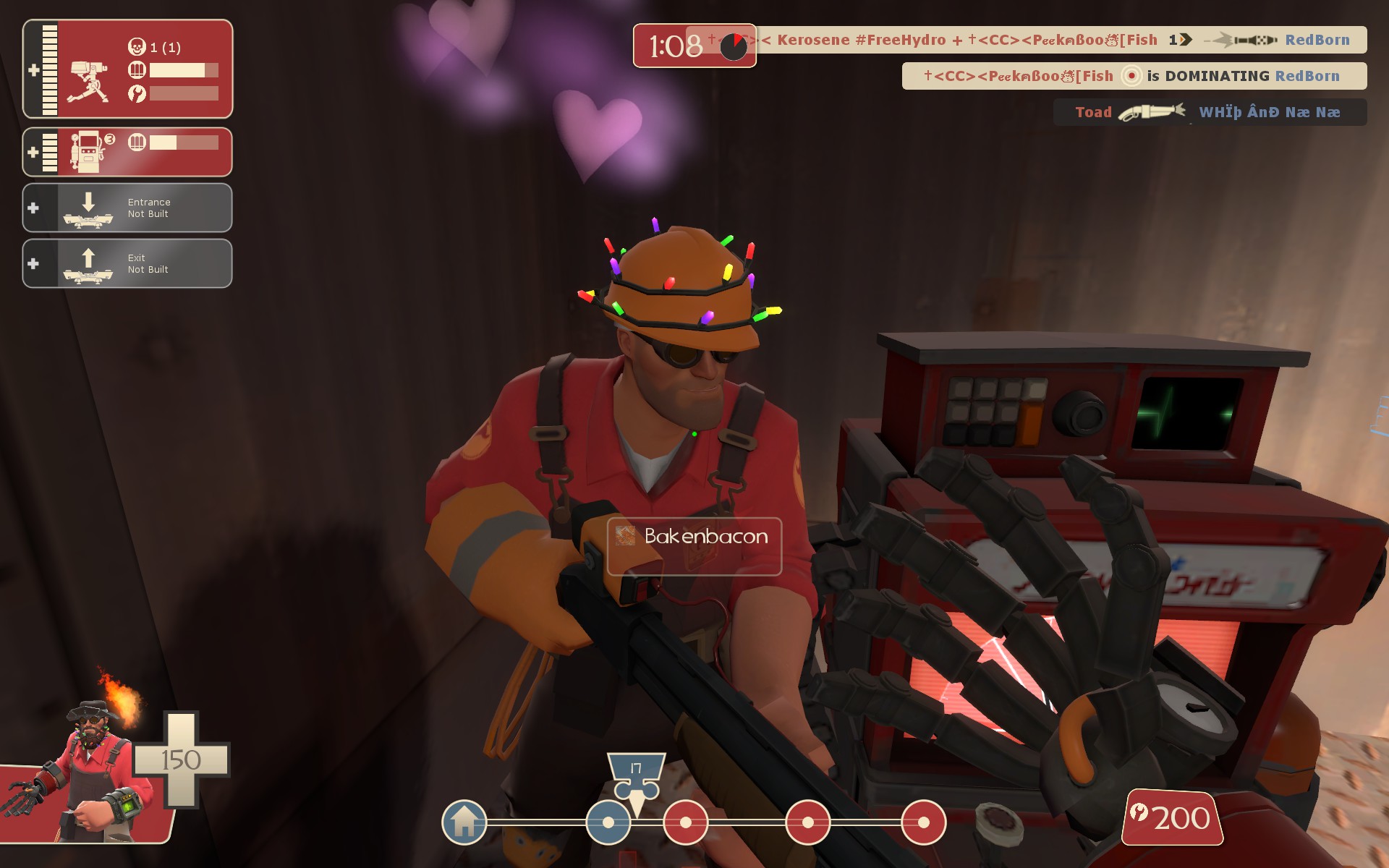 This is
Bakenbacon
! Baken's Engie is dawning an awesome
Unusual Industrial Festivizer
hat. It's a string of yellow, green, purple and team-colored Christmas lights wrapped around the Engineer's hard hat and powered by a battery attached to the back. The Industrial Festivizer was added to the game December 17, 2010 during the Australian Christmas update.
Bakenbacon's specific hat is showing off the
Cloud 9 Unusual Effect
with tiny hearts constantly floating up from his head. This effect is one of 7 possible effects that have a slim chance to be obtained from any Series #59 crate and higher. These 7 Unusual Effects were added to the game June 19, 2013.
You can see Baken is holding a
Rescue Ranger
weapon in his hand. It resembles the normal Shotgun, but has a small, permanently turned on monitor mounted on its top in the location a scope is typically found which shows a moving sine wave.
The amplitude of the sine wave in the monitor is based on the user's Metal count: having full Metal causes the wave to be at maximum height. Lacking enough Metal to long-range haul a building will make it significantly flatter and having no Metal renders the wave almost completely flat. The monitor is connected to a yellow box at the end of the barrel with a team-colored light on its end.
Pros and Cons:
@
Fires a special bolt that can repair friendly buildings.
@
Alt-Fire: Use 100 metal to pick up buildings from long range.
@
-34% clip size.
@
-50% max primary ammo on wearer.
@
Self mark for death on building pick up.
The Rescue Ranger is possible to craft. One way to craft this weapon for sure is: 3 Eureka Effects wrenches + Reclaimed Metal. A second way to possibly craft this weapon is: 1 Engie Class Token + 1 Primary Slot Token + Scrap Metal. But with this second blueprint, there are 5 possible weapons that will be crafted... one of them is the Rescue Ranger. The Rescue Ranger was added to the game December 20, 2012 during the Mecha Update.