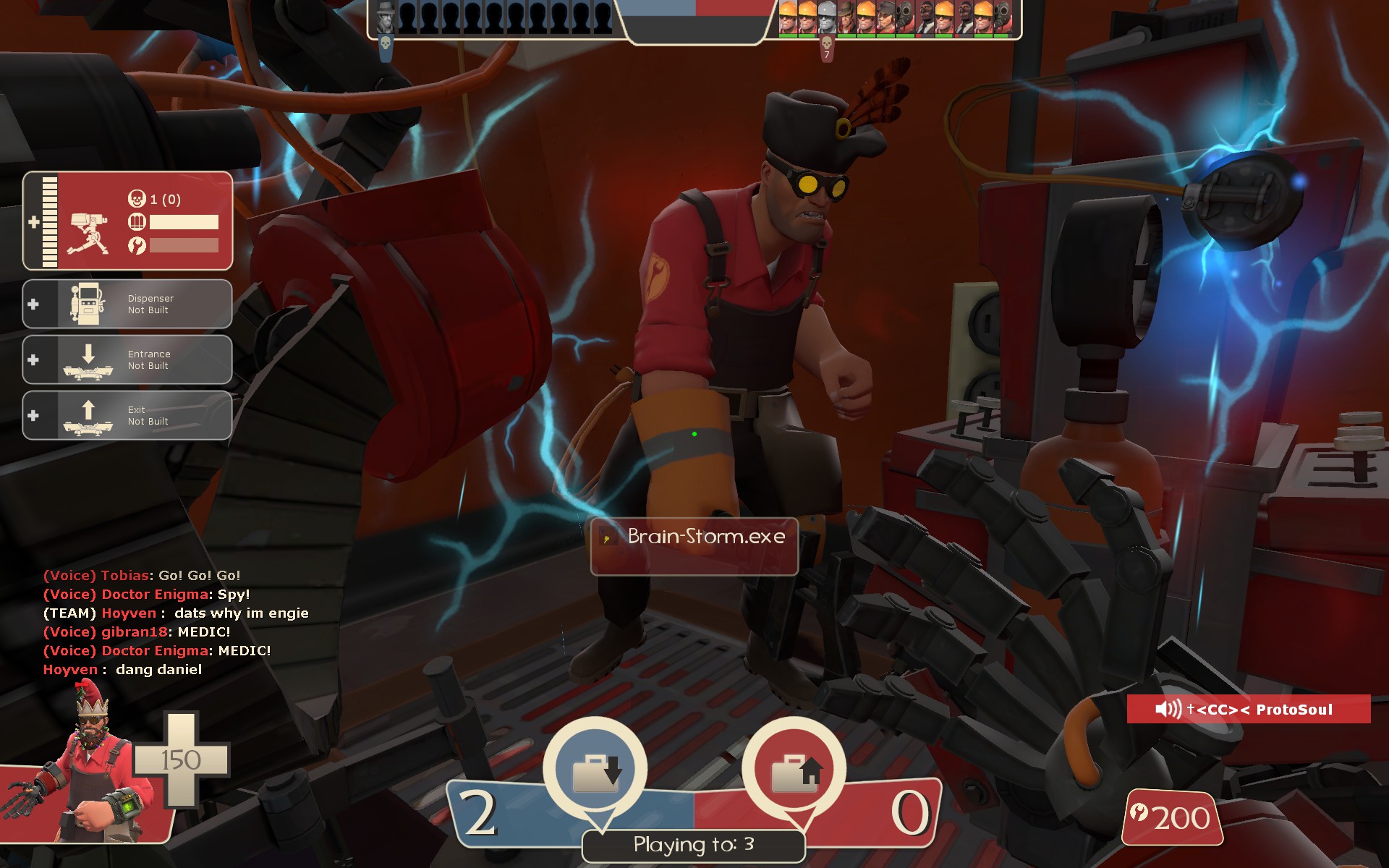 This is
Brain-Storm.exe
! He's hard at work defending his Engineer Buildings from a Spy! You can see the blue electrical zaps that are attacking his buildings. Brain must kill the Spy and wack his buildings with his wrench to save them from being destroyed. An Engineer has 4 possible buildings to build...
a
Sentry
(to shoot enemies and defend)
a
Dispenser
(gives teammates health and ammo)
an
Entrance Teleporter
an
Exit Teleporter
(to transfer players from one place to another)
Though Brain-Storm has dismay on his face, you can still see his great style showing through! On his head you'll see the
Hetman's Headpiece
. It's a promotional cosmetic item only for the Engineer. It's a dark Cossack military hat with a golden ringlet centered on the front that has three team-colored feathers positioned on its left side. Cossacks are members of a people of southern Russia and Ukraine, noted for their horsemanship and military skill. "Hetman" was the highest military office and head of state in Ukraine's Cossack Hetmanate. This item was awarded in
Genuine quality
to players who preordered Mount & Blade With Fire & Sword before May 3, 2011.
Hats from the Movie "With Fire and Sword"
Brain-Storm also has on a brilliant pair of goggles!
The Deus Specs
are a promotional cosmetic item for all classes. They're a pair of armless and bridgeless sunglasses with gold-tinted shades, similar to those worn by the protagonist of Deus Ex: Human Revolution, Adam Jensen. If equipped on the Engineer or Pyro, the Specs will take the form of their existing eyewear with gold lenses. This item was awarded in
Genuine quality
to players who pre-purchased Deus Ex: Human Revolution on Steam before August 26, 2011.
(Image from Deus Ex: Human Revolution)